ORGANIC BEESWAX MINI FOOD WRAP SET (M & L)
Towards sustainable living and mindful consumption.

Unplug Eco-conscious Metric: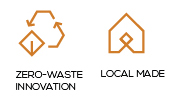 Our Organic Beeswax Food Wraps are a reusable alternative to cling-film and single-use plastic. Our Handmade wraps are eco-friendly, biodegradable and compostable. Organic Beeswax and Organic Pure Jojoba Oil have natural antibacterial properties, with Sustainably Sourced Pine Resin ensuring our Beeswax Wraps are self-sealing keeping your food fresh for longer. 
Directions: Beeswax Wraps are super easy to use, simply unfold food wraps and use the warmth and pressure of your hands to wrap around food, cheese, bowls, fruit and vegetables. 
Cleaning: Wash the food wraps with cold water using mild soap and hang to dry. Fold and store your wrap in a drawer and try to keep away from heated areas in your kitchen. DO NOT rinse the food wraps in hot water! Food wraps last approximately 6 months or longer with proper care.
*Do not leave food wraps in direct sun
*Not suitable for raw meat and fish, hot or frozen foods
Ingredients: Organic Natural Beeswax, Sustainably Sourced Pine Resin, Organic Pure Jojoba Oil, 100% Cotton
Size: Medium 28cm x 28cm, Large 35cm x 35cm
*Available in assorted colors
ORGANIC BEESWAX MINI FOOD WRAP SET (M & L)
FAQ
Return & Shipping
We ship Local & Worldwide. Within Klang Valley, Pick-up at our outlet is available. More details.

Items are exchangeable within 7 days for another of same value or higher, but non-refundable.