Towards sustainable living & mindful consumption.

Unplug Eco-Conscious Metric: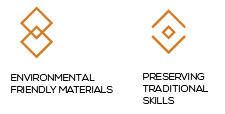 Ghar Soap (also known as "Aleppo Soap") uses an ancient formulation that dates back over a thousand years ago. It is manually-produced and takes up to one year to complete.

Recommended for Eczema & Psoriasis.  Suitable for all ages and skin type.
1-for-all Usage:
Handwash
Body Wash
Shampoo
Facial Cleanser
Face Mask
Make-up Remover
Shaving Cream
Toothpaste
Dish Washer
Clothing Detergent
Benefits:
Moisturizing & nourishing
Antiseptic & controls acne
Reduces redness & soothes irritation
Treats dandruff & dry scalp
Softens & conditions hair
Ingredients:
Olive Oil, Laurel Oil, Lye
FAQ
Return & Shipping
We ship Local & Worldwide. Within Klang Valley, Pick-up at our outlet is available. More details.

Items are exchangeable within 7 days for another of same value or higher, but non-refundable.