MEN FLIP FLOP - SNEAKER SOLE
Towards sustainable living and mindful consumption. Make it last with slow fashion.
Unplug Eco-conscious Metric: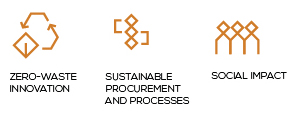 Our quest to make the perfect flip flop has led us to the ESSNTLS. We started by sourcing the best materials we could find—natural rubber and vegan uppers. Thoughtful ingredients combined with our NEW recycled sneaker sole technology and an affordable price make the ESSNTLS the most 'ECOnomical' flip flop in the world.
Soles Made from Recycled
Sneakers
Indonesia produces over 20 million pairs of sneakers every year. As a global hub for sneaker production, hundreds of thousands of defect pairs of sneakers are thrown out.
We decided to recycle these sneakers thrown out by major sneaker brands and turn them into soles.
Recycled sneaker soles 
Contoured natural rubber footbed
Embedded arch support
Waterproof
Comfortable nylon toe thong
Laser engraved ENVRO fiber straps
Light and flexible at approx. 369g (13oz)
Made without animals or the use of fuel powered machinery
Size Chart:
MEN FLIP FLOP - SNEAKER SOLE
FAQ
Return & Shipping
We ship Local & Worldwide. Within Klang Valley, Pick-up at our outlet is available. More details.

Items are exchangeable within 7 days for another of same value or higher, but non-refundable.