Towards sustainable living & mindful consumption.
Unplug Eco-Conscious Metric: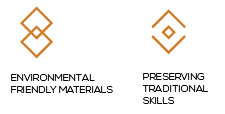 A PALESTINIAN HERITAGE
Since the 10th century, our Soaps of Nablus have been made in the city of Nablus, Palestine. Made from olive oil, water, and lye, these soaps were and still are produced by hand through age old techniques passed down through generations. The alternative to a safer cleanser our Soaps of Nablus can be used from head to toe. Made from all natural ingredients of exotic Mediterranean fruits, herbs and spices we have eighteen different types to choose from - a scent and soap for everyone!
THE WONDERS OF OLIVE OIL
The key ingredient of the Nablus Soaps is virgin olive oil. It is rich with naturally occurring glycerin, vitamin A and E, as well as antioxidants that keep the skin moisturized, renewed, and elastic. Suitable for both skin and hair and for all skin types.
4 SOAP IN A BOX
*Order Direction: Choose 4 Soap Type and list it under Notes upon checkout.
Dead Sea Mud - relieves eczema & dandruff, improves & stimulates blood circulation
Saffron - anti-aging effect, keeps skin smooth & blemish free
Sage - fades marks & spots & makes skin fairer, reduces wrinkles & firms up the skin
Lavender - balances skin's oil production, effectively treats acne, antiseptic properties that effectively kill bacteria, soothing & calming scent
Black Seed - Relieves psoriasis, abscesses, eczema, dandruff & dry skin. Abundant source of all essential fatty acids
Grape - Stabilize collagen & elastin of skin, rich in antioxidants that reduce damage by free radicals, ultramoisturising.
Date - Retain skin's youthfulness, rich in calcium, phosphorus & iron, rich in antioxidants compounds.
Thyme - Stimulates hair growth, contains excellent antioxidant properties
Honey - Keeps skin hydrated & revitalizes skin, protects against the sun's harmful UV rays, penetrating fragrances, rich in antioxidants compounds
Mint - Helps in delaying the aging process, antiseptic & rich in antioxidants properties
Lemon - Acts as an astringent & increases resistance to oxidative stress, contains natural bleaching properties
Avocado - Has sunscreen effects, enhances skin tone
Cinnamon - Rich in manganese, iron & calcium, aids blood circulation & acts as an astringent, antibacterial, antiyeast, antifungal & antimicrobial
Olive oil - Contains potent antioxidants reducing the signs of aging, stimulates the production of collagen & elastin
Milk - Deeply nourishes & moisturizes the skin, contains proteins, enzymes, amino acids & antioxidants that hydrate & brighten the skin, removes dead skin cells & makes skin fairer
Fig - Rich in calcium, iron & Vitamin A, contains emollients & natural humectants
Pomegranate - High in antioxidants, fighting skin damaging free-radicals, stimulate skin regeneration
Tea Tree Oil - Antibacterial, highly effective at treating acne, stimulates the immune system
FAQ
Return & Shipping
We ship Local & Worldwide. Within Klang Valley, Pick-up at our outlet is available. More details.

Items are exchangeable within 7 days for another of same value or higher, but non-refundable.