BEESWAX FOOD WRAP SET (M & L)
Towards sustainable living and mindful consumption.

Unplug Eco-conscious Metric: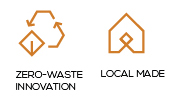 Our Beeswax Food Wraps are an eco-friendly and sustainable way to replacing cling film. This natural alternative is reusable, biodegradable and compostable, even our packaging is plastic-free!
Beeswax and Jojoba Oil have anti-bacterial properties keeping your food fresh for longer and look so fun and colourful, leaving little waste with all our packaging also being made from recyclable paper.
Available in limited numbers and made from beautiful handmade and handblocked fabric by a small team of weavers and women in India.
Directions: Beeswax Wraps are super easy to use, simply unfold food wraps and use the warmth and pressure of your hands to wrap around food, cheese, bowls, fruit and vegetables. 
Cleaning: Wash the food wraps with cold water using mild soap and hang to dry. Fold and store your wrap in a drawer and try to keep away from heated areas in your kitchen. DO NOT rinse the food wraps in hot water! Food wraps last approximately 6 months or longer with proper care.
*Do not leave food wraps in direct sun
*Not suitable for raw meat and fish, hot or frozen foods
Ingredients: 100% Cotton, Natural Beeswax, Pine Resin, Jojoba Oil
Size: Medium 28cm x 28cm, Large 35cm x 35cm
*Available in assorted colors
BEESWAX FOOD WRAP SET (M & L)
FAQ
Return & Shipping
We ship Local & Worldwide. Within Klang Valley, Pick-up at our outlet is available. More details.

Items are exchangeable within 7 days for another of same value or higher, but non-refundable.