BEESWAX FOOD STORAGE BAG - BATIK COTTON
Towards sustainable living and mindful consumption.

Unplug Eco-conscious Metric: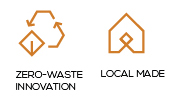 Our Beeswax Bags are a great addition to your everyday! Super cool aesthetic with its geometric print and warm colour tones, who thought sustainability could look and feel so good! 
• Eco-friendly and reusable
• Perfect for storing fruits and vegetables in your fridge
• Carry your snacks and lunch on the go
• Great for both adults and kids
• Water resistant and easy to clean
• Ideal produce bags for your veggies, fruits, grains and nuts from the grocery store
• 100% Plastic-free!
• Natural antibacterial properties from Beeswax & Jojoba Oil
• Food safe
The top rolls down easily and the bag simply folds up for storage. Because of its sturdy form it can also stand up making it easy to add and take things out, and also works well as a storage bag for your kitchen and on your counter tops. Our Beeswax Canvas Bags can also be stored in your freezer, store your cut fruit and berries for your morning smoothies!

Cleaning: Simply wipe to clean, or hand wash with cold water and mild soap. Rinse then leave to air dry.
*Do not rinse in hot water
*Do not leave in direct sunglight
*Not suitable for raw meat and fish, or hot foods
Dimension: 29 x 10 x 9cm
Materials: Batik Cotton, Natural Beeswax, Pure Jojoba Oil
Features: Made in Malaysia, Handmade, Water-resistant, Eco-friendly
BEESWAX FOOD STORAGE BAG - BATIK COTTON
FAQ
Return & Shipping
We ship Local & Worldwide. Within Klang Valley, Pick-up at our outlet is available. More details.

Items are exchangeable within 7 days for another of same value or higher, but non-refundable.