WRAP TOP - STAY ON POINTE
Towards sustainable living and mindful consumption. Make it last with slow fashion.
Unplug Eco-conscious Metric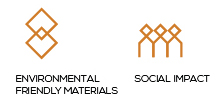 Material:  GOTS Certified Organic Cotton & Upcycled Batik
Is it possible to Stay On Pointe while feeling comfortable, too? When organic GOTS cotton is involved, the answer is a passionate yes! Inspired by ballet, this sophisticated wrap-around will ensure that you look & feel on point - whether you're running errands or running on a treadmill. Not only can you choose between two colours but you can also choose how you want to tie the eye-catching ribbon!
Our Cause:
- Support the production of 100% organic cotton over modified cotton (which has led to environmental degradation and even suicide within Indian farming communties)

- Avoid wearing clothing made with plastic and in turn, reduce your probability of experiencing skin problems (think itching, rashes, allergies etc.)

- Support a local business, made in Malaysia

- Support communities-in-need as every item was made by refugees under UNHCR

WRAP TOP - STAY ON POINTE
FAQ
Return & Shipping
We ship Local & Worldwide. Within Klang Valley, Pick-up at our outlet is available. More details.

Items are exchangeable within 7 days for another of same value or higher, but non-refundable.