ORANGE PURE ESSENTIAL OIL - 10ML
Towards sustainable living & mindful consumption.

Unplug Eco-Conscious Metric: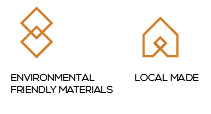 Orange Oil referred to also as Sweet Orange Essential Oil is derived from the fruits of the Citrus sinensis. Oranges are one of the oldest and the most commonly grown fruit in the world. Folk and Traditional medicinal applications use Orange Oil to relieve colds, coughs, chronic fatigue, depression, flu, indigestion, low libido, odours, skin infections and even muscle spasms. 
Orange Oils varied and valued uses are also renowned to :
Calm anxiety: The intoxicating aroma of Sweet Orange Essential Oil refreshes and energizes.
Digestion: Orange Oil is used for better digestion, to ease cramps and help with stomach pains.
Insomnia: Orange Oil has a calming effect and can be used tito treat sleep issues.
Anti-Inflammatory: Orange Essential Oil possesses powerful anti-inflammatory properties to ease pain and reduce inflammation.
Anti-Bacterial: Orange Essential Oil helps to prevent infection and repairs the affected area.
 Protect & Strengthens: Orange Oil  is packed full of anti-microbial properties, antioxidants and vitamin C.
 Rejuvenate: Orange Oil is a potent antioxidant, it defends the skin.
Deodorise
Uses & Benefits:
Orange Essential Oil deodorises while exuding its own fresh and energizing scent. Simply inhaling the scent of the oil from the bottle has a relaxing effect.
Orange Oil can be diffused by adding 5-6 drops in a diffuser. 
While travelling, Orange Oil can be sniffed from either the bottle or cotton ball.
Orange Oil can be added to laundry to scent clothing. 
To scent the kitchen ,  add 1-9 drops of Orange Essential Oil along with Lemon Essential Oil , Cinnamon and Cloves to pot of water.Allow this blend to simmer on the stove. 
Country Of Origin: South Africa
Nett Volume: 10ml
ORANGE PURE ESSENTIAL OIL - 10ML
FAQ
Return & Shipping
We ship Local & Worldwide. Within Klang Valley, Pick-up at our outlet is available. More details.

Items are exchangeable within 7 days for another of same value or higher, but non-refundable.