Towards sustainable living and mindful consumption. Make it last with slow fashion.
Unplug Eco-conscious Metric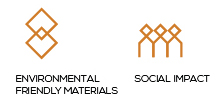 The Cropped Collection

This collection is a reminder to remain happy like a baby and (mentally) strong like a warrior. In this day and age, overstimulation is rampant which in turn can lead to feeling unhappy due to external stress. This external stress then affects the internal state as over-thinking starts. Love, Light, Lemons intents for this collection to serve as a reminder throughout your time wearing the apparel that you can return to a state of happiness and that you can overcome any struggle – all you need is to continue believing in yourself and to continue dedicating yourself to your growth.
Sewn by refugees seeking asylum in Malaysia in collaboration with TANMA.
Material: 100% Organic Certified Cotton (GOTS Certification)
Size: 
S -  W23.5 c.m. x L16 c.m.

M -  W23.5 c.m. x L19 c.m.

L -  W28 c.m. x L28 c.m.
Our Cause:
- Support the production of 100% organic cotton over modified cotton (which has led to environmental degradation and even suicide within Indian farming communties)

- Avoid wearing clothing made with plastic and in turn, reduce your probability of experiencing skin problems (think itching, rashes, allergies etc.)

- Support a local business, made in Malaysia

- Support communities-in-need as every item was made by refugees under UNHCR

FAQ
Return & Shipping
We ship Local & Worldwide. Within Klang Valley, Pick-up at our outlet is available. More details.

Items are exchangeable within 7 days for another of same value or higher, but non-refundable.