Towards sustainable living and mindful consumption.

 Unplug Eco-conscious Metric: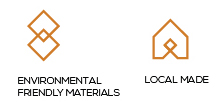 KENE DESIGN - The concrete Artisan

For this special season we're coming out with our all time favourite range of Terrazzo Trays in Hari Raya colours! Four different sizes to choose from our round tray to style your table and home decoration this raya! All items are waterproof sealed and safe to use for your sparkling drinks and delicious kuih!

* Limited item. No restocks for near future.
Comes in four different raya colour combo that protects your table surface from condense water from your cold drink. Seal with waterproof sealent complete with three cork pads underneath to protect surface.
Available Sizes:
Small - 15 cm d x 2 cm +- h
Medium - 23 cm d x 3 cm +- h
Large - 31 cm d x 3 cm +- h
FAQ
Return & Shipping
We ship Local & Worldwide. Within Klang Valley, Pick-up at our outlet is available. More details.

Items are exchangeable within 7 days for another of same value or higher, but non-refundable.