CONCRETE VASE - MIXED TAN
Towards sustainable living and mindful consumption.

Unplug Eco-conscious Metric: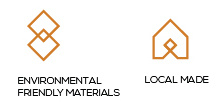 Local Made   
KENE DESIGN - The concrete Artisan      


Medium Vase   

Size: 12.5 cm diameter x 11.5 cm
height 

Weight: 980g 

Potted vase of 12.5 cm diameter
and a hole beneath for water flow, our concrete vase comes in various color for all types of plants.
CONCRETE VASE - MIXED TAN
FAQ
Return & Shipping
We ship Local & Worldwide. Within Klang Valley, Pick-up at our outlet is available. More details.

Items are exchangeable within 7 days for another of same value or higher, but non-refundable.