CONCRETE MINI POTS - DARK GREY
Towards sustainable living and mindful consumption.

Unplug Eco-conscious Metric: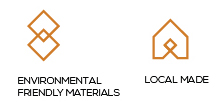 Local Made    

KENE DESIGN - The concrete Artisan 

Mini Pots
Size:4.5cm h x 5.5 cm w
Weight: 115g

Decorate your little succulents and plants with the beauty of  concrete using our mini pots!  With height of 4.5 cm and 5 cm  diameter, our little babies are  ready to complete your space  with some concrete aesthetics!
CONCRETE MINI POTS - DARK GREY
FAQ
Return & Shipping
We ship Local & Worldwide. Within Klang Valley, Pick-up at our outlet is available. More details.

Items are exchangeable within 7 days for another of same value or higher, but non-refundable.