CONCRETE SQUARE TRAY - GROVE SERIES
Towards sustainable living and mindful consumption.

 Unplug Eco-conscious Metric: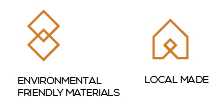 The idea of concrete may summon images of flat, dusty, dull and gray surface. However here at KENE DESIGN, we explore the intricate beauty and details of this fine medium. Each creation is handmade delicately through the whole process until an art work is formed. Its complete uniqueness in colour, pattern and texture makes each item portrays its own authentication. Studied with different techniques and methods of production, the imperfections are celebrated as part of the design. Each series and collection brings eclectic originality of various structure, design, style and colours that recognize the admirable identity of concrete.
Size : 16cm x 16 cm x 1.7cm
Weight: 713g

Suitable for table storage and decoration purpose, our wide square tray can store your keys, cards and coins aesthetically.
CONCRETE SQUARE TRAY - GROVE SERIES
FAQ
Return & Shipping
We ship Local & Worldwide. Within Klang Valley, Pick-up at our outlet is available. More details.

Items are exchangeable within 7 days for another of same value or higher, but non-refundable.