Towards sustainable living and mindful consumption. Make it last with slow fashion.
Unplug Eco-conscious Metric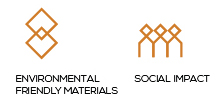 Made from Scrap Fabric (Post Production)
Have you ever wondered about how your clothes were made? And if the production process is sustainable? Typically, the answer to the latter question is no. Most fast fashion labels simply discard fabric leftover post production. In order to reduce unnecessary wastage, Bananas Over Bandanas was made using excess fabric! You can style this item conventionally (as a bandana) or use it as a scarf – for yourself, your furry friend, or even your handbag.
Our Cause:
- Support the production of 100% organic cotton over modified cotton (which has led to environmental degradation and even suicide within Indian farming communties)

- Avoid wearing clothing made with plastic and in turn, reduce your probability of experiencing skin problems (think itching, rashes, allergies etc.)

- Support a local business, made in Malaysia

- Support communities-in-need as every item was made by refugees under UNHCR

FAQ
Return & Shipping
We ship Local & Worldwide. Within Klang Valley, Pick-up at our outlet is available. More details.

Items are exchangeable within 7 days for another of same value or higher, but non-refundable.