BIARRITZ TENCEL MODAL BEACH SARONG
Towards sustainable living and mindful consumption. Make it last with slow fashion.

Unplug Eco-conscious Metric: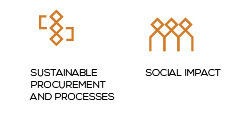 "Wrap the Biarritz sarong loosely around your waist and get picture-ready for the beach. Perfect as a cover-up after going for a swim, or simply to drape over your waist for a loose fashion fit.
 Details
 - Illustrated 1 People logo on the design
 - Dimensions: 200 cm x 130 cm 
 - Made with fibres sourced from sustainable wood and pulp by certified and controlled sources 
 - Perfect to be tied around the waist and personalised with other ready-to-wear
 White Dove
 Discover the signature 1 People monogram print highlighted in the Oyster Black colour against the predominant off white called White Dove. The border and lines are printed in the same Oyster Black as the monogram to create a beautiful contrast on the sarong's print.
 Centre: White Dove; Border & outline: Oyster Black
 Oyster Black
 Discover the signature 1 People monogram print highlighted in Oyster Black against the subtle off white colour called White Dove. Observe the border in White Dove that creates a beautiful contrast with the centrepiece of the sarong.
 Centre: Oyster Black; Border: White Dove
 Mix White Dove & Sand
 The sarong combines the alluring off white, called White Dove, with the calming Sand to create a soft and warm look that is perfect for the beach. It is decorated with the 1 People monogram print and outline in Oyster Black.
 Centre: White Dove; 1 People monogram print & outline: Oyster Black; Border: Sand
 Mix Sand & Oyster Black
 The colours of the sarong pay attention to the stark contrast between Sand and Oyster Black. The centre is filled with the calming Sand Brown colour and outlined in Oyster Black, creating the perfect warm tone for the beach.
 Centre: Sand; Outline: Oyster Black
 Materials
 - 100% TENCEL™ Modal
 - OEKO-TEX® certified printing
 - Comes in FSC-Certified recycled paper packaging, which can be repurposed for storage
 Care Instruction
 Please wash the sarong before first use. Hand wash in cold water with mild soap and with similar colours. Do not bleach and to avoid wrinkles, line dry in the shade. We kindly ask that you only warm iron if needed. Highly recommend dry clean."
BIARRITZ TENCEL MODAL BEACH SARONG
FAQ
Return & Shipping
We ship Local & Worldwide. Within Klang Valley, Pick-up at our outlet is available. More details.

Items are exchangeable within 7 days for another of same value or higher, but non-refundable.